With so companies offering email marketing solutions these days, it can be difficult deciding which one will provide you with the most complete service at the best value.
What makes BigMailer an excellent choice? To begin with, we offer a startup-friendly free tier (<5,000 contacts free), affordable pricing that's friendly for scaling up ($1 per 1,000 contacts) and agency friendly built-in brand and user management. But wait! There's so much more.
Let's take a closer look at some of the features that we think makes BigMailer an attractive option for many businesses.
1. One Platform for Bulk, Automated and Transactional Emails
Using different providers for your bulk (MailChimp, Campaign Monitor, AWeber) and transactional (SendGrid, MailGun) campaigns is so 2009. Not only are you paying more for different providers to engage with the same list, you're making more work for yourself by managing and syncing bounce and unsubscribe data and analyzing subscriber engagement. That, and your transactional emails shouldn't be managed in the software or website code by developers – they should be a part of your integrated marketing efforts.
BigMailer allows you to manage all of your email campaign types on a single platform, which means that you have only one price point and your engagement data is centralized. By having a unified view of how customers engage with your brand, you can easily initiate email sequences based on transactional email activity. A good example of this is when a user creates a member account or starts a free trial on a website. The back-end triggers a welcome email with next steps and usage tips and an email sequence you've defined is then initiated based on the transactional email.
2. Opt-in Interest Management
Most market leaders don't offer the option to manage multiple, interest-based unsubscribe pages, and those that do (Campaign Monitor and AWeber, for example) price it as a multiplier of their typical rate and the number of opt-in interests you want to manage. Pricey! On BigMailer, you can use as many interests for your opt-in management as you want, at no additional cost.
What does a BigMailer unsubscribe page look like with multiple interests? Below is a screenshot of a client's subscription preferences page.
Why is this important? Instead of opting out of all communications from your brand, interest-based unsubscribe pages allow your customers to unsubscribe only from the emails they don't want to receive and keep receiving those that they do.
3. Unlimited Custom Sender Configuration
With BigMailer, you can configure an unlimited number of custom senders (e.g., sales@your-brand.com, support@your-brand.com). When your customers receive an email sent via BigMailer, assuming you've configured things correctly, they'll only see the from email address in the header and nothing else that points to your provider.
This can make you as the sender appear more authentic and improve your email deliverability. It also makes any future migrations headache-free because the sender signature is the same.
4. Campaign Segmentation Based on Engagement
While these next two features are offered by some providers, you'll pay much more to use their platforms. BigMailer offers these features on all plans and is 50-500% less expensive (depending on your list size) than the market leaders.
BigMailer allows you to segment your target audience based on campaign engagement, location and any of the fields in your customer lists (e.g., date joined or member role).
5. Automatic Geo-location Data Collection
BigMailer automatically collects geo-location data when your contacts perform these actions:
Sign up through a BigMailer form
Click on any of the links in your campaigns
Since a customer's IP address is considered personally identifiable information (PII), BigMailer does NOT store it. Instead, we convert it to non-PII data points that we can store, like a customer's city, state, ZIP code and country. You can then use this data to effectively target your campaigns.
6. No Compliance Departments, No Customers Turned Away
Traditionally, email service providers manage their own servers and infrastructure, which entails monitoring and managing the reputation of a shared server pool. This approach is not only very expensive, but also results in customers being turned away if their lists are determined to be of lower than target quality.
BigMailer uses Amazon servers to send emails while providing an interface to manage campaigns and analyze performance data. This approach is less expensive and allows us to pass the savings on to the consumer. We also require that our customers connect their own Amazon Simple Email Service (Amazon SES) accounts to BigMailer. We do this so that others using the platform are never affected by anyone's bad lists or behavior. This means we have no need for a compliance department to police our customers, freeing up resources that allow us to focus our efforts entirely on making the best email marketing platform available.
7. Two Template Editor Options: Drag and Drop and Classic
While drag and drop email template editors are now largely considered to be standard, not all low-cost platforms (like MailGun) offer them. In fact, many platforms only provide an option for using drag and drop or custom template management, not both.
At BigMailer, we give you both at no extra cost, and our two template editors allow for use of unlimited image hosting. The classic editor allows you to load and edit existing branded templates, either using a simple editor or by changing the HTML code of the template directly. The drag and drop editor allows you to quickly build beautiful mobile-optimized templates. Additionally, you can choose to store and share some templates at the account level, which can then be shared between brands.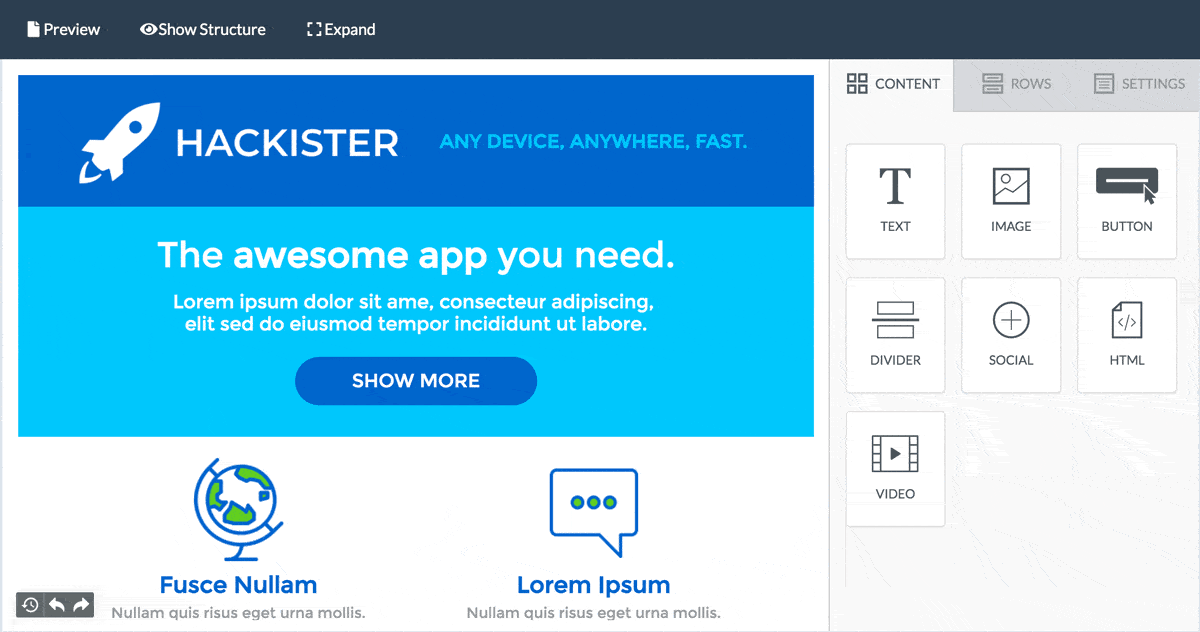 Still not convinced BigMailer is the best choice for your business? There are a bunch of other cool features – built-in brand management, unlimited users with permission levels, list suppression (opt-out data from any campaigns you may have done with your partners/affiliates/vendors), automated pause of campaign with high bounce rate – that we'd be thrilled to discuss with you in greater detail via live chat.
Are there other features you'd like to see in BigMailer? Request them in comments section or via live chat. We appreciate any feedback you have for us.