MailGun Alternative – BigMailer via Amazon SES
MailGun is known as a low-cost transactional email provider, similar to SendGrid. While they offer ability to send "marketing" (aka bulk) emails, the platform isn't optimized for email marketing experience.
BigMailer is a hosted email marketing platform that runs via Amazon SES and supports all campaigns types – bulk, auto/drip, and transactional.
Pricing Model – Email Sending Vs. Number of Contacts
The biggest different between MailGun and BigMailer is the pricing model.
BigMailer is priced based on number of contacts stored and offers unlimited emails, offering greatest benefits to high volume and frequency senders. If you send more than 2 emails per month, then BigMailer pricing works better for you.
MailGun pricing is based on the number of emails sent and benefits infrequent, occasional senders. So if you send 1 campaign per month or don't engage your entire lists on recurring basis and rather engage certain segments of your list then MailGun pricing is more cost effective for your needs.
Brand and User Access Management
BigMailer platform has built-in support for managing multiple brands (e.g. businesses, products, or websites), with their own lists and templates. It also supports managing multiple users and managing their access based on brands and permission levels.
An Account Administrator can manage users and billing, in addition to access to all brands. Brand Manager can access all data and workflows within a brand, while Campaign Manager doesn't have access to Lists (to protect your subscriber data).
Email Template Editing
MailGun offers very simple template editor with direct access to template code, so you can customize your template directly via HTML edits. There is no drag-and-drop editor/builder, and the few templates offered as a starting point look more like plain-text emails with minimal design elements.
BigMailer offers the flexibility of choosing between 2 template editors:
Advanced Drag-and-Drop Editor allows you to build beautiful mobile optimized templates in minutes. There is also a small collection of email templates to use as a starting point.
Classic Editor offers an option to add and manage existing branded templates and edit them in 2 modes – rich text or HTML code.
Here is a comparison table for some price levels and features.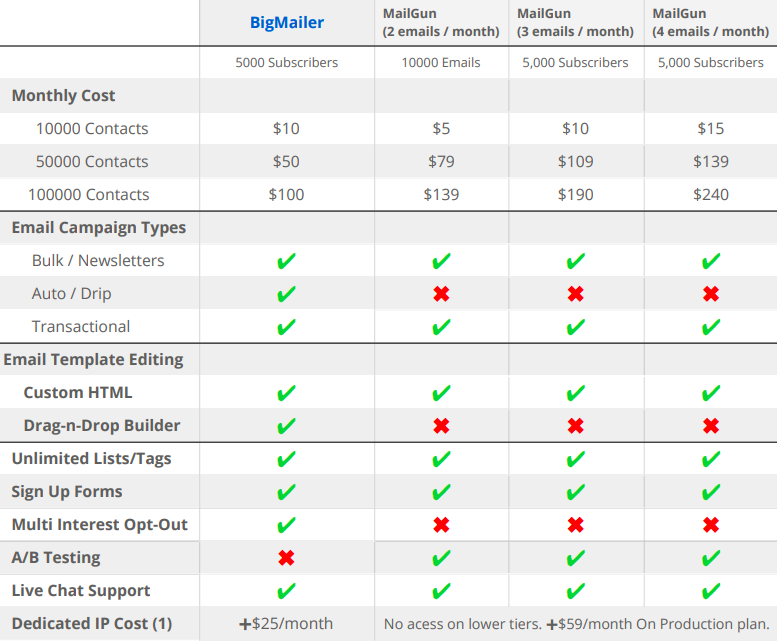 Want to learn more about what BigMailer has to offer? Check out our Plans & Pricing page or try it for free. Have questions? Use live chat icon to get in touch.