Built on top of the Amazon Web Services architecture, Amazon Simple Email Service (SES) is a service that allows users to send emails at scale. Its free version is fairly limited, but its paid version is very inexpensive. The service is fairly limited and in the past has been favored by developers for sending transactional emails.
Amazon SES does NOT:
Process bounces, complaints and unsubscribes (accounts with bounce rates over 10% may get suspended)
Manage email campaigns or store email templates
Track or provide reporting on campaign engagement (opens, clicks)
Amazon SES Email Marketing
Platforms like BigMailer, use Amazon SES for sending emails, while managing all other aspects of email marketing like campaign management and reporting.
BigMailer platform is a complete, low cost email marketing solution with a great return on investment for everyone. It's optimized for agencies and makers who benefit from built-in brand management. Since BigMailer customers connect their Amazon SES accounts, there's no need for BigMailer to manage an ecosystem of servers or IP addresses with shared reputation like traditional email service providers.
Here are some benefits of using BigMailer in conjunction with your Amazon SES account:
Support for bulk, auto/drip and transactional email campaigns
Email campaign engagement tracking and reporting
Powerful segmentation (custom data fields and campaign engagement) and geo-targeting
Drag and drop email template editor and classic editor for custom template management
UNLIMITED brands, user/client sub-accounts, custom templates and image hosting
UNLIMITED emails per month
Still have questions or want to learn more about the benefits? Schedule a demo of the platform.
Amazon SES Email Marketing Providers
All Amazon SES customers have an option to add a dedicated IP for $25 per IP per month.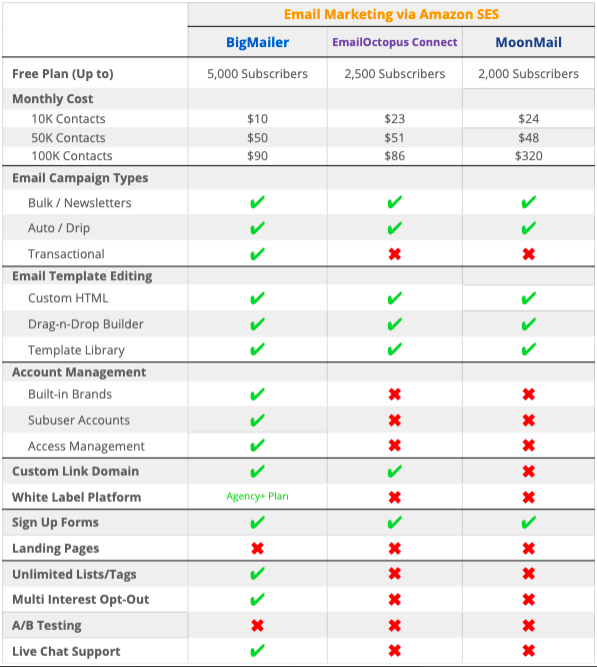 Getting an Amazon SES Account out of Sandbox Mode
Newly created Amazon SES accounts are automatically placed in sandbox mode. To be able to send actual campaigns via the BigMailer platform, however, these new accounts must first be removed from this testing environment. Accomplishing this is as simple as requesting that Amazon increase your send limit.
Unless otherwise specified, this limit is typically set to 50,000 emails per rolling 24-hour period. If your list is larger than 50,000 contacts, be sure to indicate the specific number of emails you require as well as provide any other relevant information, such as links to your site and the pages where you collect email addresses. Most customers get their requests resolved within an hour. You can find more detailed information in this article about submitting a request to Amazon.
Setting up Multiple Amazon SES Accounts
When you manage multiple brands, products, websites or clients, it's practical to set up and manage multiple Amazon SES accounts. If you're part of an agency, your clients may already have their accounts established with high sending limits built up. Unlike its competitors, BigMailer offers support for easily managing multiple Amazon SES accounts and assigns them to your brands.
Simple low pricing – free up to 5,000 contacts, only $1 per 1,000 contacts after.
Frequently Asked Questions
Do I have to link my own Amazon SES account to use BigMailer?
You can use BigMailer email collection forms and import your contacts without connecting to Amazon SES, but you'll need to link to your Amazon SES account prior to scheduling your first campaign.
Can I get assistance with Amazon SES account setup?
Yes! We can assist you with setting up your Amazon SES account and connecting it to BigMailer for free. Just reach out to us and
request free setup assistance.
How do I manage more than one Amazon SES account?
Since all accounts begin with the free startup plan, the option to connect more than one SES account isn't available in the UI by default. Once you establish a paid plan, you can reach out to support via live chat icon and request for this option to be enabled in your account. For additional information, please refer to these step-by-step instructions on
how to set up multiple Amazon SES accounts
.
Can I get a dedicated IP address? If so, how much does it cost?
My Amazon SES account got suspended, what can I do?
You can ask for re-instatement if you have identified and addressed the reasons. Amazon typically doesn't tell you why your account is suspended, but the main reasons are: 1) your bounce rate was too high – over 10% 2) your complaint rate was too high – over 0.1% 3) your sending volume suddenly increased (signals improper list building). In your response/request to Amazon you have to clearly state what issue you had identified and resolved, before asking for a review. A provider like BigMailer can prevent your account from getting suspended due to bounce rate – we automatically pause a campaign with bounce rate over a rate configurable by you (8% is the default).