EmailOctopus Alternative – BigMailer
BigMailer is a hosted solution runs on Amazon SES, just like EmailOctopus (and unlike Sendy), so there are some similarities between these two providers, for example access to dedicated IPs is facilitated via Amazon SES and cost the same $25 per IP per month.
Both BigMailer and EmailOctopus use the same pricing model based on number of contacts (aka subscribers) stored on the platform, and both offering unlimited emails per month and slightly different free tiers.
The major feature differences between BigMailer and EmailOctopus are:
In addition to bulk and automation BigMailer also supports transactional campaigns, which allows centralizing all email marketing activities in a single platform with fully in-sync customer data, which is especially important for dis-engagement stats like unsubscribes, bounces, and complaints.
BigMailer has built-in brand and user management which is ideal for organizations with large teams, digital marketing agencies, web development shops and developers, and anyone managing multiple projects. With BigMailer, you can manage unlimited brands and users or clients, with custom permission levels for each user/client.
BigMailer supports customizing opt-out pages with multiple message types defined, as an alternative to a single/global unsubscribe option.
BigMailer supports managing unlimited lists, which behave like tags, and only charges based on unique contacts stored within each brand.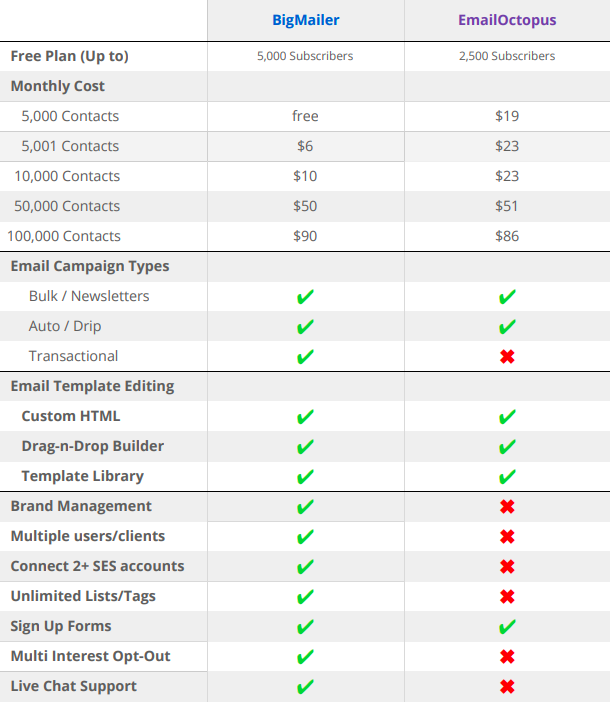 Have questions about some features or volume discount pricing? Reach out to us via live chat.