Sendy Alternative – BigMailer
BigMailer is a fully hosted cloud solution that connects to Amazon SES, while Sendy is a self-hosted solution. Setting up on BigMailer doesn't require technical skills and experience is optimized for high volume senders.
Because you host Sendy on your own server your sending rate is limited by the server capacity you host Sendy software on. When you host Sendy on a cheap server your marketing campaigns may take many hours to go out, which doesn't allow you to optimize your engagement based on open time.
BigMailer and Sendy both support:
Multiple brands, users, and SES connections.
Multiple SES connections.
Use of dedicated IPs at $25/IP/month via Amazon SES.
Bulk, automation, and transactional campaigns.
HTML template editor.
However, there are some differences in how certain features are supported and priced:
Sendy does not support multiple users under a brand, while BigMailer offers unlimited users at no extra cost.
BigMailer allows you to have unlimited custom domains at no extra cost, while Sendy requires you to purchase additional license – $20 for 1 domain, $48 for 5 domains.
BigMailer Advantages Over Sendy
Drag-and-drop email template editor in addition to HTML editor.
Library of pre-made mobile-optimized templates.
Advanced List segmentation – built-in or custom fields, campaign engagement action, email domain, and more.
Fast email delivery (not limited to your server capacity).
Sending volume throttling (X emails per 15/30/60/120 min).
No upfront setup fees. You can try our Amazon SES on BigMailer's Startup (free) plan.
Support via live chat and ongoing updates at no extra cost.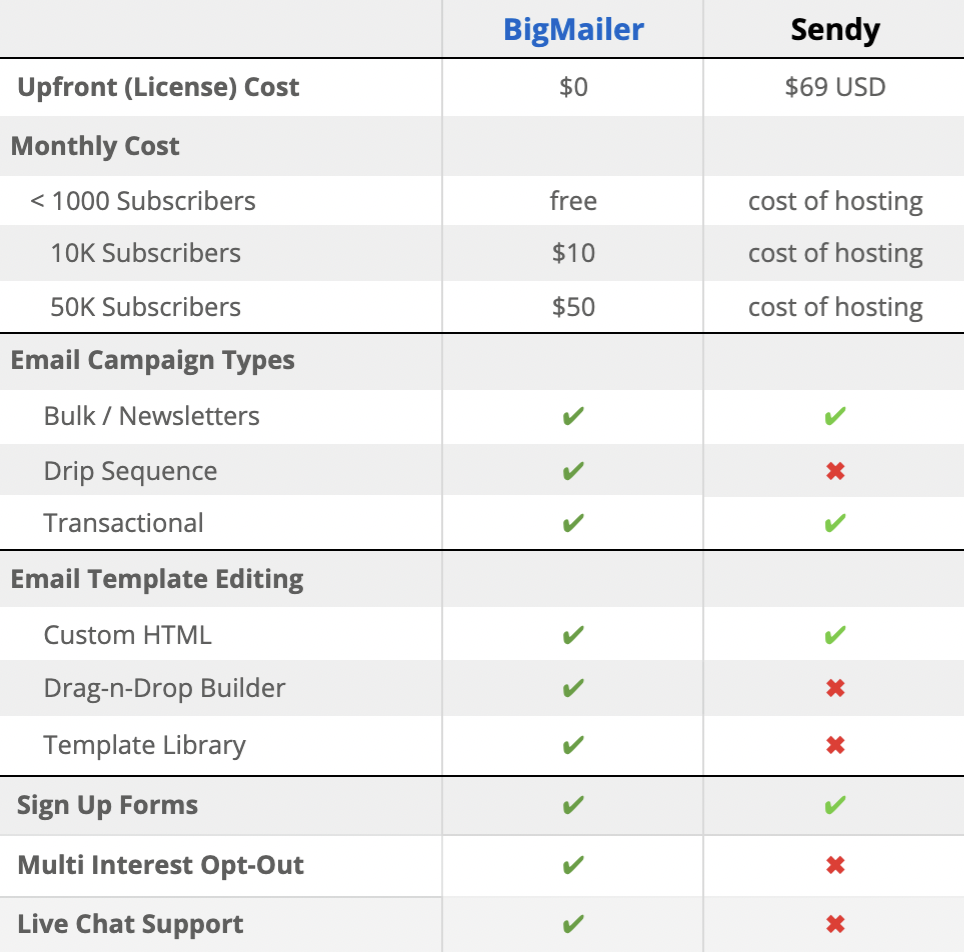 Ready to try out BigMailer? Sign up for a free account. Got questions? Reach out via live chat icon on bottom right.