Email Marketing Software for Agencies
An affordable email marketing platform for anyone managing multiple brands or projects.
First 5K Contacts Free, Then $1 per 1K Contacts Per Month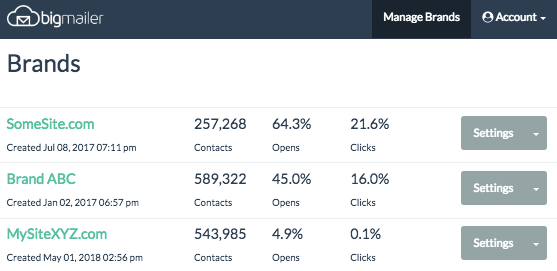 Built-in Brand and Account Management
Add unlimited brands to manage from the main dashboard. Everything is organized under brands – lists, campaigns, and forms. Only account settings like users, billing, API keys, and SES integration are managed outside brands by account administrator.
Invite and manage unlimited users/clients with their own roles and permissions.
*Screenshot from a real BigMailer customer account with brand names edited.
Unlimited Lists Without Extra Cost
Add unlimited lists to manage your contacts. Define lists based on collection source (sign up forms or manual exports) or based on custom data (subscriber roles or statuses) or anything in between. With BigMailer you get charged based on number of unique contacts.
Export your lists with engagement data (bounces, complains) to sync up with your CRM and delete lists anytime and without talking to support.

Smart Opt-Out Page
Configure unlimited message types to allow subscribers opt-out only from messages they don't want and keep more subscribers on your list. Available on all plans at no extra cost.
Custom Templates and Images
Host unlimited images and store unlimited custom email templates for all your email marketing campaigns. Cost included in regular pricing with no additional charge.
All Your Email In One Place
Manage all your email campaigns in one place – bulk, transactional, and drip/automation – without the extra effort or cost of using multiple platforms.
Simple Low Pricing – First 5K Contacts Free, Then $1 per 1K Contacts Per Month
Support When You Need It
Get timely email and live chat assistance 7 days a week and weekly check-in with your account manager.
Reliability You Can Trust
BigMailer platform had 100% uptime in the 2.5 years since launch. That's a reliability your business deserves.
Got Questions?
Got questions or need assistance? Use the chat icon on the right to reach out.