We release updates on Saturday nights, usually on a bi-weekly schedule or once a month. Sometimes if a new feature is small and highly anticipated we may have a weekly release cycle. Curious to see what our product roadmap is for 2019? Scroll down to Product Roadmap section at the end of this page. We welcome your feedback and suggestions, so if you don't see something you need just reach out via live chat icon anytime.
Check out our comparison page for bulk email marketing service providers and share it with your network.
Coming Soon: Built-in Spam Testing and Email Validation
Spam testing integrated into campaign management workflow. No need to leave BigMailer platform for spam testing your email or pay for this as a separate service. Want to be an early tester of this feature and give us feedback? Reach out via live chat icon.
Email Validation is something we have been exploring for a while. We plan to implement a few options:
Short-term – Integrating Bouncer validation service (pricing TBD)
Long-term – Implementing AI-powered scoring of email quality to automatically optimize campaign delivery
Got some feedback for us on how you would like this to work? Reach out via live chat.
October 7: Zapier Integration
Zapier Integration allows you to connect BigMailer to hundreds of other vendors and services like Google Forms/Spreadsheets, CRMs, lead generation platforms, and many others.
Read more about Zapier integration or get started by creating a Zap.
October 5: Amazon SES health stats
You can now see and monitor bounce and complaint rates for your SES account in BigMailer. Just click on Accounts link in top right and select SES in the menu.
August 18: Segmentation based on email domain (ISP)
You can now segment your campaigns using a condition for email domain check. For example, high volume senders who haven't engaged their list recently and want to build up their sender reputation may choose to exclude top mailbox providers in order to control daily sending volume, see example below.
August 4: Custom Tracking Domains as Self Service
By default, the click-tracking and unsubscribe page URLs are set by BigMailer. For example, we currently use bml.co as the default tracking domain on all free tier accounts.
BigMailer customers can now set up custom tracking domains to anything they would like. Ideally, the custom tracking domain would match the sender domain, which would signal authenticity to mailbox providers and can improve your deliverability and inbox placement. Your tracking domain can use a new sub-domain for this, for example:

Ready to get started? Here is how to setup custom domain tracking in BigMailer.
July:
Lots of small improvements and optimizations, especially on the reporting side, all based on customer requests.
June 29: Global template sharing
You can now select any templates to be shared with all brands within your account. This is helpful for agencies that design templates for their clients and want to re-use some of their work.
June 22: White labeling option: branded unsubscribe page
You can now upload a logo under each brand if you want it to appear on the brand's unsubscribe page.
What's next: Account level branding on user (agency client) invites. Self-service custom tracking domains.
June 15: Campaign Top Links, Campaign Send Time Zone
You can now see top 10 links on the Campaign Report screen.
We also exposed user's time zone in the campaign scheduling section that can be edited for a given campaign. This helps distributed teams and agencies have a custom time zone that's relative to the user, which was previously a global setting.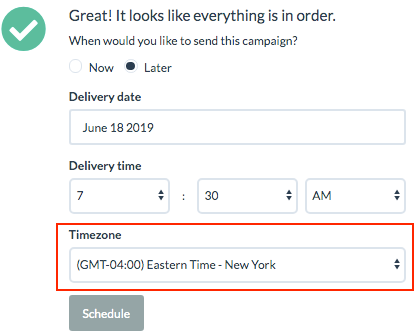 June 8: Campaign Auto-Save
We get it, playing around with a drag-n-drop editor is a lot of fun and can take a while, so we enabled auto-save for the template filed as well as other fields on campaign screen to prevent any loss of work.
May 25: Drag-and-Drop Template Editor + Templates
You can now choose between the advanced drag-n-drop editor and a classic editor that allows you to customize your existing branded template. The drag-n-drop editor supports a variety of layouts and elements, image library uploads, merge tags, and more.
We also added some templates with some popular layout options – announcement, newsletters, and promos. Just select them from the global template library, customize colors and branding and save into your own template collection.
April 28: Auto-generated Text Version Of Your Email
Text Version of Email: Having a text-only version of the email is one of the factors considered by spam scoring filters. We are adding an option to generate a text version from your html version to help you save time and improve your campaign deliverability.
Apr 13: New User Role – Campaign Manager
Campaign Manager is another type of user that has less access than Brand Manager, specifically no access to List management to protect customer data in cases of employee/contractor turnover.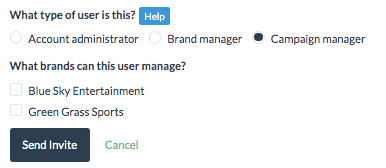 Mar 16: Custom Preview (Preheader) Text
Email clients generate preview text from the first text that appears in your email, but most emails have "View this email in browser" appear at the tom and template design doesn't always lends itself to a long text element at the top. You can now specify preview text for each campaign in BigMailer without having to manage it as part of your email template code.
Using preview/pre-header text helps improve open rates and engagement overall. We highly recommend you use it.
Mar 9: Support for Connecting Multiple SES Accounts
You can now use different SES accounts for some of the brands in the same BigMailer account. Great for franchises, businesses with multiple locations, and high volume agencies. With separate SES accounts you can choose to use dedicated IP addresses (or IP pools) on some brands, but not your entire account. This feature is not automatically exposed on all accounts, so if you are interested in using it please reach out and request it.
Jan: Bulk Contact Deletion at Brand Level
You can now delete contacts at brand level by uploading a file and keep/check a log of all past deletes. This functionality is helpful when you run promotions with partners and have unsubscribe data outside BigMailer platform and need to remove those external unsubscribes from your mailing list at BigMailer
Feb: Enhanced Campaign Management
We releasing an updated UI to manage campaigns with ability to:
Filter campaigns by their status (Drafts, Completed, Archived).
Assign "Archived" status to campaigns to remove from main view. This is helpful if you send test campaigns and don't want to see them in your main view (since only draft campaigns can be deleted).
Add custom folders/labels and move campaigns to those custom folders. This is helpful if you send frequent campaigns and want easy access to past promotions or special deal emails for easy reference and copy/re-engage.
Dec 2018: New Reports and Re-Engagement Shortcuts
You can now see a delivery and engagement report by email domain, to help you identify any deliverability issues with specific ISPs (mail box providers). Just click on "View by Domain" link on the reporting screen.
You can quickly create a follow up campaign based on engagement, either for:
Those who engaged with your previous campaigns. Just click "Re-engage" link next to Open Rate stat on reporting screen.
Those who haven't engaged with your email campaigns in the last X days (you can specify the date range yourself). Just select the option to use a segment and select engagement metric (did not open or did not click) to segment your list(s) based on.
Nov 2018: Export/Delete Lists and Billing Updates
You can now export your lists with engagement and bounce data, as well as delete lists. We have also updated billing so you get charged immediately when your import causes your contacts to go above your current billing limit. That means that if you engage with your contacts and then delete them you pay for those contacts at least once. The immediate charge is incremental and pro-rated based on where you are in your billing cycle.
Oct 2018: Transactional APIs, Brand Management
2 new transactional APIs added (add + update subscriber record)
Agency: Brand access management by user
Performance improvements for bulk campaign send time
Jun 2018: Template Editor and Images Upload/Hosting
We added an enhanced email template editor to make creating and editing templates easier and without the need to know any HTML or touch the code. Format your template elements using the widget with familiar options. You can also save your templates for future use in your template library.
You can now upload and store images on BigMailer platform to use in your email templates. There is no limit and it doesn't cost anything extra!
Mar 2018: BigMailer Now Supports Transactional Email
Whew… we were a little behind the timeline we committed to on our product roadmap, but support for transactional emails is now live!. You can now add and manage your transactional emails, in addition to marketing (bulk) and automation campaigns (aka drip or email sequences) in BigMailer, included in all plans at no additional cost.
Read more about transactional email support. Got feedback or need assistance? Don't hesitate to reach out.
Jan 2018: Email Automation is Here
The wait is over! You can now add and manage email automation campaigns (aka drip campaigns or sequences) in BigMailer, included in all plans at no additional cost.
What kind of emails can you add? Below is a list of examples for an e-commerce site or a membership-based product. If the customer signed up for a newsletter you can tell them what to expect, e.g. how often you send updates and a promise to keep content valuable and interesting.
Welcome email. Condition for trigger: Email is added to a list (1st email in your sequence). This one is a must for email marketers. This is your opportunity to re-engage the user but also tell them about major features they can explore, highlight next steps for taking advantage of their new account, or point them to articles on product usage tips.
Can we help you? Condition for trigger: 1-7 days after welcome email (step 2 in a sequence). Use this email to offer helpful content or remind user how to get assistance with any issues they might be having, also to highlight methods for support (chat, email, phone).
Ready to subscribe/upgrade? Condition for trigger: 3-30 days after Step 1 or Step 2 + not in your subscriber list (you should have one).
Read more about Automation Campaigns in this blog post that we will keep updating with use cases and suggestions.
Product Roadmap
We need your help prioritizing the features listed below, so if you have a preference please get in touch via live chat or leave a comment!
2019
Detailed reports for Automation and Transactional campaigns
Integrate spam testing into campaign management workflow.
Email Validation / List Cleansing. This is a big one for us and something we will be rolling out in phases throughout 2019. We want to help new customers bringing old/unused emails into our platform send out their first campaigns without triggering high bounce rate or SES account suspension. This will be supported by a combination of email validation and machine learning (AI) applied to list (new contacts) analysis.
New campaign type: RSS to email
Self-service affiliate program (currently by invitation only)
AB testing on subject line and/or send time.
Accounting – Detailed Invoices. This feature would be useful to agencies that manage multiple brands. The monthly email receipt and invoices will break down your total monthly cost by brand, so you know what to charge your clients or to just know what each brand on BigMailer platform cost you.