Sendinblue Alternative – BigMailer via Amazon SES
BigMailer is a hosted email marketing platform that runs via Amazon SES and supports all campaigns types – bulk, auto/drip, and transactional. The biggest different between Sendinblue and BigMailer is the pricing model.
BigMailer is priced based on number of contacts stored on its platform and offers unlimited emails, so BigMailer is ideal for high volume and frequency senders.
Sendinblue pricing is based on the number of emails sent so Sendinblue pricing benefits infrequent, occasional senders.
The major feature differences between BigMailer and Sendinblue are:
1. BigMailer offers agency and consultant friendly options to:
a) manage multiple brands/clients with a single login
b) 2 template editing options – drag-n-drop builder and classic editor with access to HTML code of the template
c) subuser management with access controls at no extra cost
d) RSS to Email campaign type (as of March 2020)
2. Sendinblue offers features like landing pages, subject line AB testing, dedicated IP, and subuser management on its higher priced tiers only.
Here is a comparison of pricing at different list sizes and some detail on feature limitations on different plans/tiers.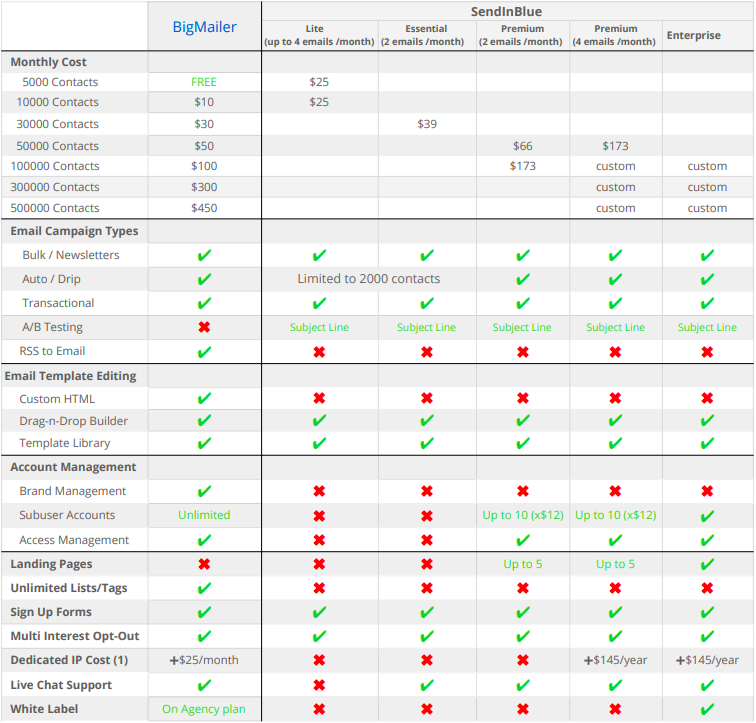 Have questions about some features or volume discount pricing? Reach out to us via live chat on pricing page.