BigMailer is a platform designed and built for managing multiple brands, which benefits digital marketing agencies, email marketing consultants, franchises, multi-location businesses, and large companies that own multiple brands.
Some email marketing service providers offer "sub-accounts" feature where standalone accounts are linked together and can be accessed with a single login. In this type of setup you login once and can switch between accounts, typically via dropdown in the header.
What is a Brand?
You can think of a brand as a business entity with its own unsubscribe page. So in cases of franchises or multiple locations, each owner or location would become its own brand. The lists can not be shared across brands and billing is based on unique contacts under each brand. A user can be assigned access to multiple brands.
BigMailer allows you to add unlimited brands and users at no extra cost. You have a brand dashboard as a starting point with engagement summary.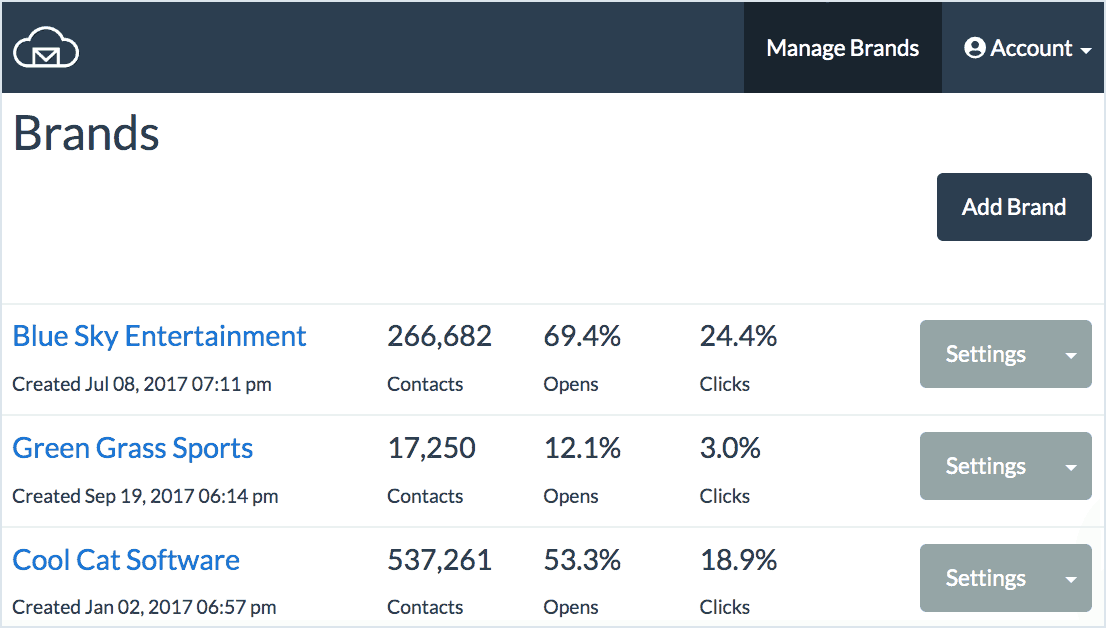 You invite new users to your account and assign brand access and a role – administrator, brand manager, or campaign manager.
Brand Names
The brand name is typically the name of the business or the domain name of a website. In cases of multiple locations but same business name it's best to follow the same naming convention to avoid confusion – location name, or "[main brand] – [location]".
The brand name is displayed in plain text on the Unsubscribe page unless a logo is uploaded, in which case only the logo is shown and no text. If you don't upload the logo it's best to have the brand name label in BigMailer to include actual brand name and not just a location. Below is an example of BigMailer unsubscribe page with logo and custom message types.
Custom Message Types
Custom message types help manage subscription preferences for your subscribers and can retain more subscribers on your list compared to a single global unsubscribe from a brand.
You can create custom message types under each brand by clicking on the brand name in the header and selecting "Message Types" from the menu. You will not be able to edit message types once you create them, so put some thought into the names before you add them.
Ideally, message types would indicate mailing frequency, if you have a set schedule, for example:
Weekly Newsletter
Monthly Product Updates
Daily Digest
Company Announcements (Quarterly)
Occasional Offers From Our Partners
You can specify a message type when you create a new campaign and BigMailer keeps track of the subscription preferences.
Email Marketing Tips in Your Inbox
Only the good stuff - expert tips and resources.