You can use BigMailer webforms to collect emails and any other subscriber data completely for free. You only have to subscribe and pay when you start sending emails above the limit on a free plan.
How to Create a Webform in BigMailer
First, you need to create a List that you want to collect your data into, then click on the arrow down icon next to your List name and select "Forms" in the options menu. On the next page click "Create Form" button and fill out all the fields: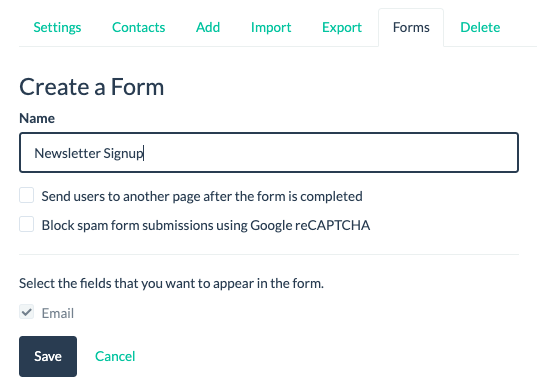 If you want to collect additional fields in your webform you need to define them on the Fields page – click on your brand name in site header and select "Fields" in the options menu. See section about field management below.
If you are worried about spam traps or bots signing up for your emails you have the option to add reCAPTCHA to your forms.
You have 2 options for using BigMailer webforms:
You can host your signup form on BigMailer and just use the URL we provide.
Copy/paste HTML code provided into your website. You may need to customize the style of the form to make it fit the appearance of your website.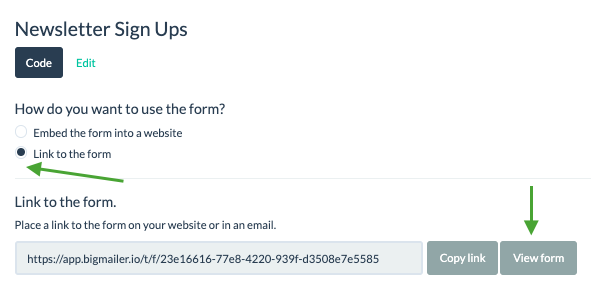 Managing Fields
There is 2 ways to create new fields in BigMailer:
Add them on the Fields page (see above) before importing or collecting data
Create new fields during the import step and map your columns in the file with data to new fields.
Once you define fields they can be used to:
Generate a webform to collect data outside BigMailer platform
Customize your email template with use of merge tags.
You need to select a correct data type for each field you create, so you can use appropriate operators (equals to, greater/less than, etc) when segmenting on those fields during campaign creation.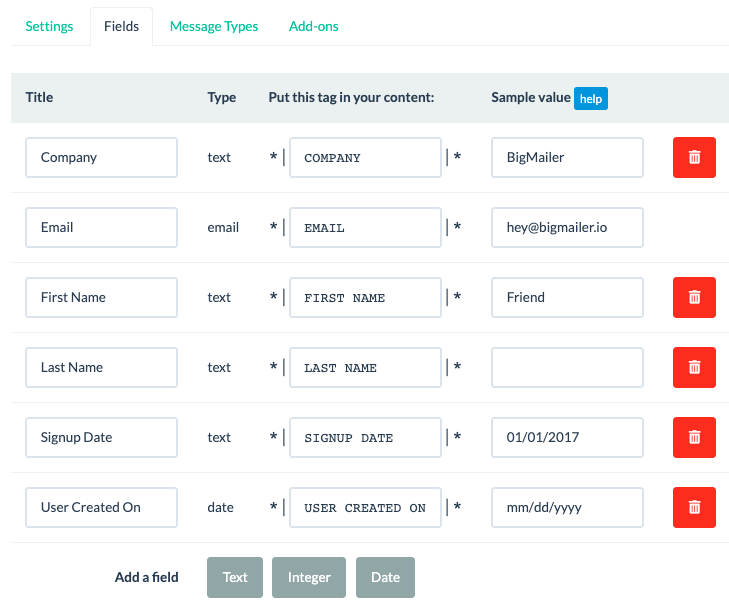 You should add some sample values for all fields, they will be used as merge tag values in any Test emails you send. Without these sample values your test emails that use merge tags can go into Spam folder or not get delivered at all.
Adding Your Webform in WordPress
If you use WordPress to manage your website you will need to use a HTML module type to add webform code to a page. Most WordPress installations and themes have this module type.
Customizing Your Webform
By default, BigMailer HTML webform code is un-styled, so you need to customize it to add relevant styles to the code, typically just a class attribute on the form and each field.
You can also customize the confirmation message provided to any text you would like or redirect to another page on your website after successful form submission.