In order for ESP like BigMailer to track clicks on links in the emails the links have to go through another domain that redirects the user to the final destination. By default, the click-tracking and unsubscribe page URLs are set by BigMailer. They are not explicitly referencing BigMailer.io brand or identifying BigMailer as your email marketing service provider, e.g. we currently use bml.co for all accounts on the free plan.
BigMailer customers can set up custom tracking domains to anything they would like. Ideally, the custom tracking domain would match the sender domain, which may make the email appear more authentic to mailbox providers and can improve your deliverability and inbox placement. Your tracking domain can use any new sub-domain for this, for example email.your-domain.com or click.your-domain.com
How to Setup Custom Tracking URL
To get started, click on Account link in the top right of the BigMailer app, while logged in. Select SES in the dropdown menu.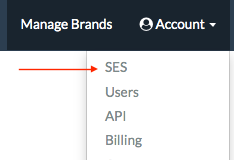 Then select the sender domain identity you want to add a custom tracking URL to. On the next page, find the link for Tracking Domain.
Follow instructions on the next page.
To enable custom tracking for a subdomain, you would need to update DNS records for your domain, specifically add a new CNAME record pointing your new subdomain to BigMailer. The tracking domain must be a subdomain (like email.your-domain.com) and can't be a root domain (like your-domain.com).