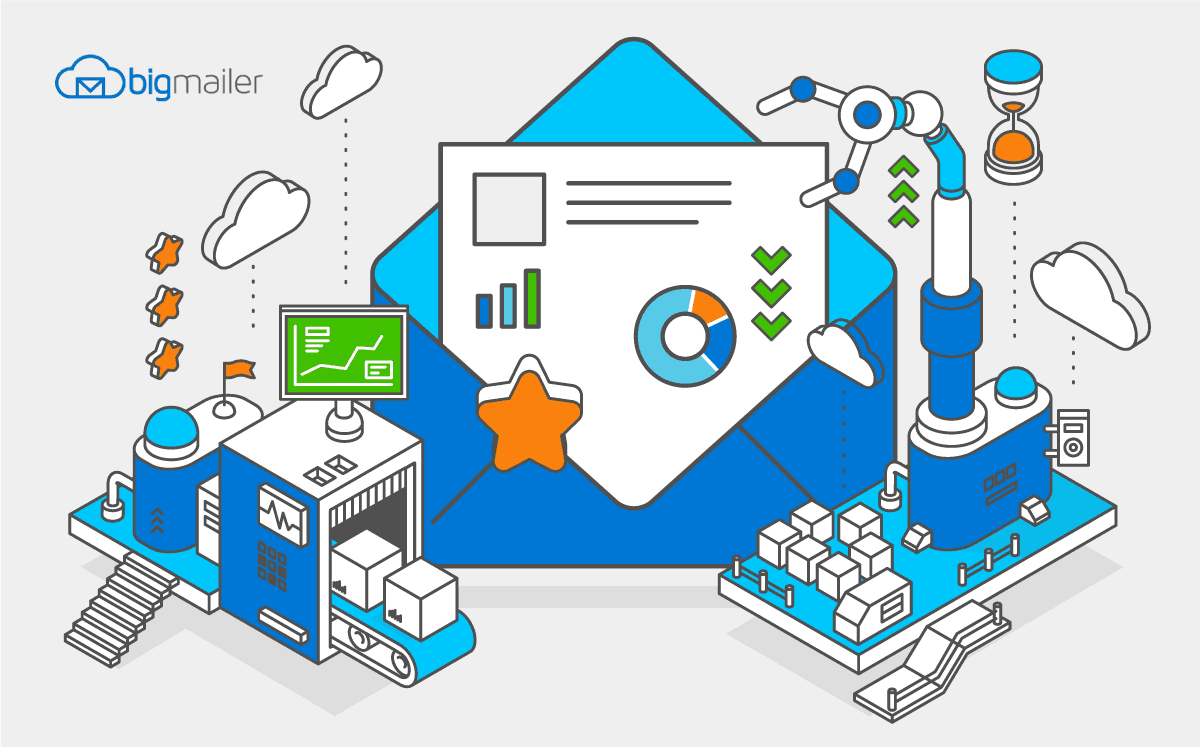 Email marketing continues to be a fast growing space that presents marketers and business owners with opportunities to market their products and services to 4 billion adults with a smartphone.
While bulk (aka promotional) email campaigns are leveraged by most marketers, automation (aka drip) campaigns are often under-utilized outside e-commerce, and especially at new companies.
There are many terms used by marketers to describe automated emails – marketing automation, drip emails, on-boarding or follow up  sequences, and more. Whatever you call your automated emails, BigMailer supports them, but let's review what those are.
Email Marketing Automation – What Is It?
Email marketing automation is the ability to send emails that are triggered by time or action. Automated emails are meant to be sent at optimal timing to ensure better engagement (e.g. sent 1 day after a previous email was opened at exact time previous engagement occurred) and with most relevant information.
Examples of automated marketing emails:
1. A single welcome email sent when a new subscriber is added to the list, perhaps with links to best content or info on how often new content will be emailed.
2. A welcome sequence sent X days after signup with valuable content, matching subscriber's interests.
3. A product/service on-boarding email sequence with tips on using a product or advice from experts. This type of a campaign can be triggered by an event outside BigMailer platform with a data push to BigMailer via integration.
4. An email or a sequence triggered by a customer interaction with a website or product. For example, if a subscriber visits a specific article they are tagged as interested in a given topic and sent relevant content or promotional emails.
Drip Campaign Examples by Industry
Are you wondering if you need drip campaigns if you are in a specific industry? You most likely do, so let's review by industry:
Drip Campaign Examples for Real Estate
Besides recruiting processes, Drip campaigns can help realtors with follow up emails and scheduled viewings. A real estate agent or office can setup triggered automation campaigns for:
Send suggested content/listing when a website user looks at particular content
Send info on new listings based on client preferences
Market updates or any updates on your company or office (awards, etc) to re-engage with inactive customer
Resources for buyers/sellers after listing updates or appointments scheduled
Whether administrative tasks and scheduling, or schedule and client management, drip campaigns are a must for realtors.
Drip Campaigns for Bloggers
Any content rich website usually has an email list size to match and likely sends recurring content updates to their entire list. But a little bit of automation can help optimize engagement with the audience and put your list to work for you, without much manual work once the setup is complete. For example:
Welcome sequence when someone signs up for updates
Re-engagement campaign to bring visitors back to the site – best content highlights or recommendations based on interests
Drip campaigns for E-commerce
E-commerce is a booming industry with consumers expecting and loving certain email types from the brands they love.
Product recommendations
Up-sell and cross-sell campaigns
Card abandonment follow ups
Customer reward campaigns
Other Email Marketing Considerations
When you setup additional email campaigns, you should consider:
Overall volume and frequency of emails your subscribers will be getting.
Honoring opt-out and managing preferences on how (often) to hear from you.
If you manage your promotional and transactional/drip emails in different platforms you may be sending more emails than your customer wants and perhaps even sending duplicated content. Consider bringing all your email campaign types into a single platform (see email marketing provider comparison) to help you manage your communications in one place. Ideally, instead of using a global unsubscribe, you offer your customers to choose the frequency and the type of emails they want to get from you.
How to Use Automation Campaign to Trigger Emails
A typical Automation Campaign can consist of 1 or more emails. It can be setup as a simple one-time confirmation email (aka auto-responder) for a signup action, e.g. a welcome email when a subscriber joins your mailing list, or as a sequence of emails with trigger conditions being controlled either in BigMailer (time based) or subscriber interactions with your website or application.
The most typical trigger for an Automation campaign (at least in BigMailer) is a contact being added to a list, which can happen via:
Web form, which is always created for a specific List to feed the contact data into.
A transactional email, you can specify what List to add a customer to as part of your Transactional campaign setup.
An API call from your website or application.
A 3rd party integration. For example data being pushed from a CRM, e-commerce platform, or in-house application.
The emails in a sequence can be triggered with:
A trigger condition based on engagement, AND/OR
Custom defined time frame in hours, days, or weeks based on condition specified. No delay can be set as well, in which case an email will be triggered as soon as the condition is met (e.g. a subscriber clicked on a previous email in a sequence).
Each email in the Automation campaign can be in either HTML or text-only format and each email can be activated or paused at anytime. A sequence can also be re-arranged at anytime – you can drag an email step into a new position in a sequence but no history of changes in the sequence is stored (no revision history).
For detailed step-by-step instructions see this post – how to setup automation campaign.
Final Thoughts
With the abundance of email marketing platforms offering support for email marketing automations, along with free plans offered by many, there is no better way to improve ROI on your marketing dollars. Email marketing is still an ROI leader across all marketing activities.
Ready to get started? Create an account at BigMailer and enjoy the free plan for up to 5000 contacts (aka subscribers).